Tips For Cutting Wedding Costs
Let's learn how to save money on your wedding but still throw the wedding of your dreams. Because all you want is people to have a good time and still get high end photography and videography to remember your day right?
I mean what else left after the flowers are dead and the food is gone? So here's are some great tips on how to cut costs for your wedding.
Knocking off $500 here and there will add up big time!
After reviewing a post-wedding survey I sent out to my wedding couples, I noticed that every single one of them went over budget.
However, some managed to get everything they wanted and were a lot closer to their budget. So what did they do differently?
Flower Costs
After looking at their survey I noticed that they spent significantly less on their flowers. With some of my wedding couples spending nearly $6000-$9000 on flowers the ones that stayed near their budget spent around $1500 or less.
Centerpieces
Invest in a good florist for your most photographed flowers like your bouquets. With that said, brides and bridesmaids can re-use their bouquets as the table centerpieces.
I would also use more candles in place of flowers for guest tables. For instance, you can rent a candelabra for $10 each at Party Stuff.
Candles create a beautiful ambiance and romantic mood, just make sure you use some Stickum ( adhesive ) so they stay in place to avoid accidents.
Tips on cutting wedding expenses
Save On Wedding Flowers By Reusing Them
Reusing your wedding ceremony flowers as your reception flowers is another huge way to save money. Transporting them carefully from one place to another can get tricky.
Therefore plan it well especially if your reception is the next day like Indian weddings. You'll have to keep them in freshwater and out of the heat during the summertime.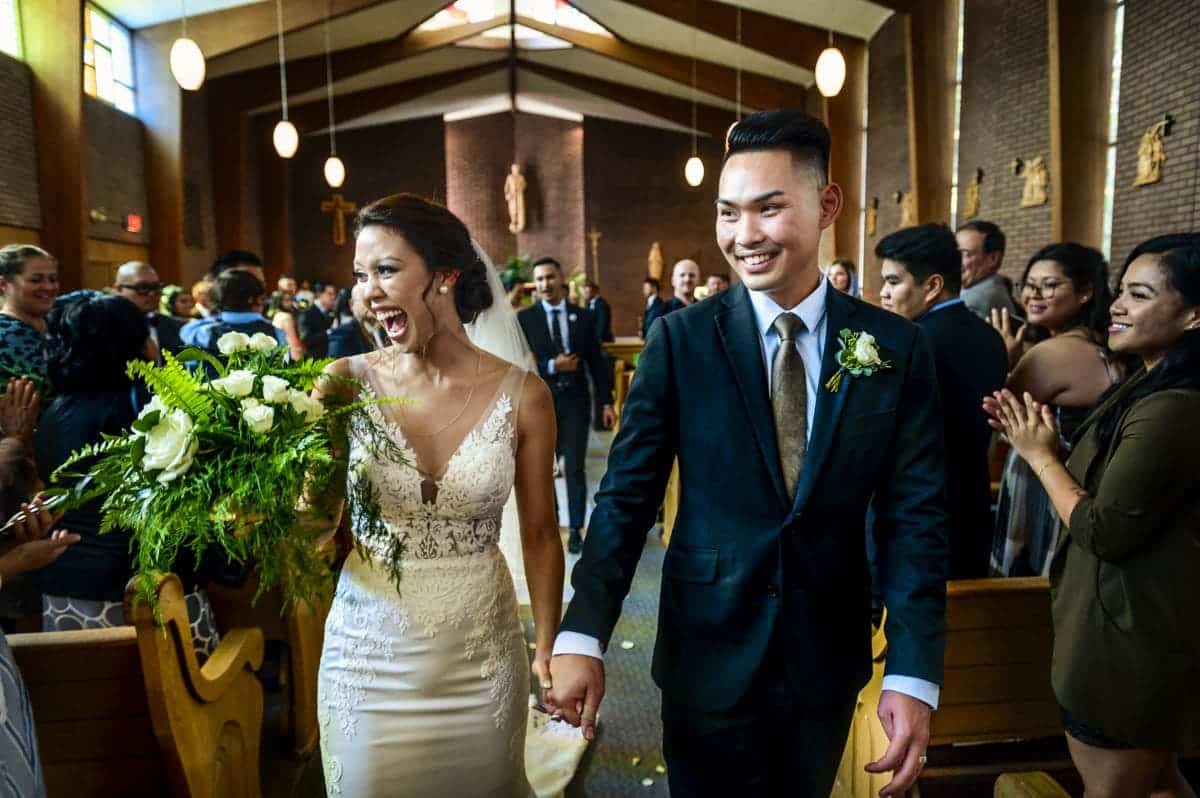 How to save money on your wedding
Add More Greenery
Adding more greenery to make your wedding bouquet is a great way to make it look fuller adding texture and size.
Also, consider adding greenery to your ceremony or reception space because it's less expensive but can create a really cool indoor-outdoor feel. For example on hanging greenery take a look at these!
Pass on the Boutonnieres
Instead of boutonnieres ask the men to sport some nice pocket squares! But if the guys really want them, I've written how to pin them since I always end up pinning them for them. I have some more useful wedding tips here as well.
Tips for cutting wedding costs
Carnations
Ask your florist for these flowers which are more affordable and can be used to fluff up your bouquets or centerpieces.
Stemware/Tableware
Keep it simple and don't clutter the table with a dozen dinnerware items. For instance, one wine glass and one water goblet is plenty for stemware. And two forks, one for dinner and one for dessert are enough.
Tips on cutting wedding expenses
Family Style Dinner Buffet
This is a big tip on how to save money on your wedding. Having a service team can be expensive so opt for a buffet-style dinner and save 20-30 percent.
Skip the big wedding cake
Cut costs on your wedding by going for a single tier wedding cake for your cake cutting photo. A large wedding cake can cost $1000+ and you can have your caterer make a cake buffet for everyone to try small samples of different cake.
Furthermore, you can ask a friend or relative to do some baking and have a cool dessert table for guests. Do I see a family/friend baking challenge maybe?
Choose less pricey desserts
You can switch out the desserts with cupcakes or pies which will cost a fraction of the price.
BYOB
Another great tip on saving money on your wedding would be to find a venue that allows you to bring your own booze.
For instance, good tasting wine can be bought for really cheap and you can just put your own unique label over it.
Save money on your wedding
Signature Cocktails
Instead of having a full open bar just have two signature cocktails plus wine and beer. Stay away from top-shelf liquor as guests don't need the finest liquor to be happy and you'll save $1-$4 each pour.
Furthermore, if you want to save even more you can just have the cocktails during cocktail hour and then only wine and beer for the rest of the night.

Tips for cutting wedding costs
Skip The Expensive Table Linen
Instead, add a table runner over top of your venue's standard linens and save about $25 per table.
Find Deals
Follow all your vendors on social media and scoop up deals a year or two in advance.
How to save money on your wedding
Late Night Snacks
When ordering late-night snacks only order for about 70% of your guest list. Because a lot of elderly and children go home late at night so a lot of food goes to waste. Also, don't forget to get some nice empty boxes for guests to take extra cupcakes or wedding cake home.
Tips for cutting wedding costs
Create Your Own Photo Booth
You can pick up an Instax mini polaroid camera for $100 and each polaroid costs about $1. Therefore you can get 200 shots for $300. Whereas a professional photo booth can run you $1000+.
Just make your own photo wall and bring some props and you're all set! To keep them, immediately stick them into a photo album and cherish them forever.
I hope you enjoyed all these amazing tips on how to cut wedding costs. There are a lot more tips that we'll be adding but if you have any questions please feel free to contact me.
To check out some more work you can head over to the blog or get some more advice in our client resource area.